Top Ten Educational Web Sites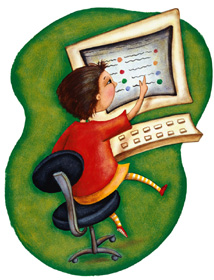 Teachers are constantly updating their lessons to keep students interested and motivated!
Below is a list of my favorite web sites that teachers can incorporate into their curriculum.
Teachers can search the web sites to find hundreds of lesson plans, activities, projects, and worksheets.
Some web sites are student-friendly so teachers can allow students
to try out the educational games at learning centers or during free time.
Enjoy!

Top Ten Document
Funschool
Teachers' Net
Scholastic Teachers
Primary Games
Enchanted Learning
The Teacher's Corner
PBS Teachers
Education World
Apples for the Teacher
Education Gov
Click to return to homepage!